Menu
What is Cancer Coach?   

What is Cancer Coach?

A cancer diagnosis can be a life-changing event. But while navigating all the uncertainties that come along with one, having personalised support can make all the difference.

Cancer Coach is designed to help your employees take control of their health and lifestyle response, guiding them through every step of the process.
This includes 6-12 weeks of guidance in areas like sleep, diet, exercise, and mindfulness, along with access to symptom tracking and other resources. We know that figuring out how to respond to cancer can be overwhelming – that's why Cancer Coach is tailored to suit each participant's unique situation.
We're working with Osara Health to bring Cancer Coach to you.

Health Coach.

A dedicated Osara Health Coach can provide guidance and help to make positive lifestyle adjustments.

Education modules.

Access to digital resources, tools, and real-world coping strategies that are specific to each participant's needs.

Symptom tracking.

The Osara Health app can help users track and manage symptoms to share with their treatment team.

Community feature.

Through the app, participants can also access articles and learn from others' experiences with cancer.

Employees return to work
16.5 weeks faster on average. 1

improvement in
return-to-work rates.1

NPS reported after 12-weeks
of Cancer Coach.2

report they trust their
employer more post-program.3
SOURCES: 1 A retrospective cohort analysis of return-to-work outcomes for cancer survivors using a digital coaching intervention. Aung et al Journal of Clinical Oncology 2022 (Australia)
2Osara Health (formerly CancerAid) internal survey data 2022 (all participants surveyed; Australia)
3Osara Health (formerly CancerAid) internal survey data 2023 (30 patients over a 6-month period; Australia)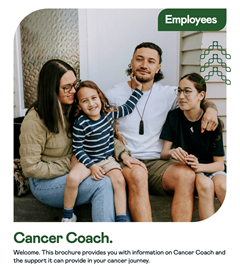 Download the employee brochure.
All the info your employees need in one document.
Cancer Coach is available to employees covered under an active Fidelity Life Group Trauma Insurance cover who have received a cancer diagnosis.

This does not include:

Any other Group cover type (e.g., 'Group Life Insurance', 'Group Income Protection Insurance', 'Group Life and Total and Permanent Disablement Insurance' etc).
Fidelity Insurance Group policies.

Participants are required to be 18+.

If you're not sure, you can always contact us at grouprisk@fidelitylife.co.nz for more eligibility information.

Cancer Coach is available to all eligible individuals – there is no additional cost to participate.

Osara Health are experts in the field of digital oncology. They're a trusted partner helping us deliver this to your employees, empowering their cancer journey.

Osara Health will hold your employees' information, in line with their privacy policy. Your employees will be asked to read and agree to their privacy policy as part of the enrolment process.

Once your employee makes you aware of their diagnosis, you or your adviser can get in touch via grouprisk@fidelitylife.co.nz to log their diagnosis with us.
We'll supply the employee with an online enrolment form to fill out.
Upon completion, their name and contact information will be shared with Osara Health.
An Osara Health Coach will contact them to discuss Cancer Coach in more detail.